[et_pb_section admin_label="Section" fullwidth="on" specialty="off"][et_pb_fullwidth_header admin_label="Fullwidth Header" title="Sonoma County Weekend Warriors!" background_layout="light" text_orientation="left" header_fullscreen="off" header_scroll_down="off" button_one_text="Request More Info" parallax="off" parallax_method="off" content_orientation="center" image_orientation="center" custom_button_one="off" button_one_letter_spacing="0″ button_one_use_icon="default" button_one_icon_placement="right" button_one_on_hover="on" button_one_letter_spacing_hover="0″ custom_button_two="off" button_two_letter_spacing="0″ button_two_use_icon="default" button_two_icon_placement="right" button_two_on_hover="on" button_two_letter_spacing_hover="0″ background_color="#7ebec5″]
You are a busy professional, focused on career and family. And your fitness is suffering as a result. You may even have a mainstream gym membership, but you're either not using it, or just not seeing the results you want. You want to live a larger life – to be strong, healthy, and have energy and stamina to be a weekend warrior and be a model for your family and community.
[/et_pb_fullwidth_header][/et_pb_section][et_pb_section admin_label="Section" fullwidth="off" specialty="on"][et_pb_column type="2_3″ specialty_columns="2″][et_pb_row_inner admin_label="Row"][et_pb_column_inner type="4_4″ saved_specialty_column_type="2_3″][et_pb_text admin_label="Text" background_layout="light" text_orientation="left" use_border_color="off" border_color="#ffffff" border_style="solid"]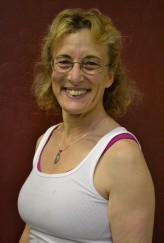 Madeline sent us this Member Story on her 60th birthday a few weeks ago. Thank you, Madeline, for all of you your positive energy and hard work in the gym. You are inspiring to all of us!
Today, April 22 is my 60th birthday and I thought it appropriate to tell my Crossfit story that began in December 2012.
In late-November 2012, I took a job in Truckee, California and was splitting my time between Sebastopol, California (my home) and a friend's condo in Truckee thinking that if the job was fantastic, my husband and I would move to Reno, Nevada to be closer to several of my husband's siblings.
The gal that hired me in Truckee also started a Crossfit gym there in October of that year. She badgered me for a month about joining Crossfit, claiming miraculous health benefits, a great fitness environment, and a wonderful community of people. I had been a serial gym joiner and that style of fitness training had never worked for me. In high school and college I had loved being part of a team because of the camaraderie and shared accomplishment. I found the solo workout routines, typical of a regular gym, boring and uninspiring. I would go for a few months then stop and finally quit. My new boss was relentless, however. A day wouldn't go by without some amazing story involving Crossfit. The more my boss promoted Crossfit, the more it sounded like cult to me and definitely not my style.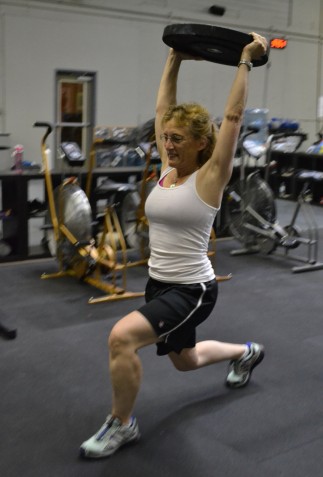 A month went by and I was lonely and missing my husband and facing a long cold winter. I am not a winter sports person, so the fact that I was living in a world-class winter resort area was completely lost on me. In my opinion, ice belongs in a glass. The more lonely I got, my bosses admonition of, "Why don't you try it for a month," was beginning to find fertile ground.
While I have always been an active person, I had reached the age of 58 30 pounds overweight. As a result, my blood pressure and my blood sugar were a little high, I had a very annoying irregular heart beat, frequent indigestion, and insomnia, all warning signs that if I didn't change my lifestyle and eating habits soon, I was heading for diabetes or heart disease, or worse. In addition, two very good friends of mine, one younger and one a little older, had developed heart disease and had to have stents implants and are now on all kinds of expensive medication. The combination of loneliness and fear finally drove me to the Crossfit gym.
My first introduction to Crossfit was via a free community workout. When I arrived, I was surrounded by an incredibly fit group of people, none of whom were over 40, which simply reinforced the notion that this Crossfit thing was not going to work. I was embarrassed with my plump round blubbery body amidst all these lululemon clad hard bodies. Not only that, we did a lot of these ugly squatty things called air squats. Plus, while everyone was doing pushups on the ground, I could only do them standing up facing a wall. I had no upper body strength. I was mortified. The workout ended and my attitude toward Crossfit had not changed, it was definitely not for me. The nail in the coffin happened later that day because I was so sore I could only crawl up and down the stairs of my condo.
The next day, hugging my bottle of Advil like a junkie, my boss asked me what I thought. I told her Crossfit was for 30-somethings, not almost 60-year-olds. She brushed my comments and criticisms aside, said my misery was normal and to just give it two weeks. Before throwing in the towel, she advised that I schedule some private training sessions with one of the coaches for a slower paced introduction and assessment.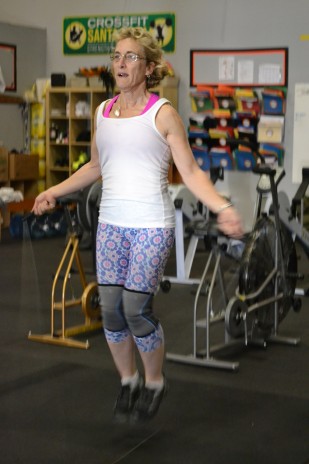 I decided to give it another try and met with the coaches who immediately picked up on my embarrassment. They spent much of the sessions working on my attitude, self-image, and establishing fitness goals. At the end of these private sessions they convinced me to give it another try and I signed up for a month. Over the next few weeks, my embarrassment slowly melted away as I began to get stronger. To my utter surprise, I discovered I was liking Crossfit and with each additional pushup, situp, squatty thing I was getting stronger and stronger. At the end of the month I fell in love!
In January 2013 the gym sponsored a very strict 30-day cleanse weight loss program and I lost 8 lbs and reduced my BMI by 6%. Over the next 9 months I lost another 22 lbs and am now a lean mean fighting machine. My BMI is bouncing around 20, my blood pressure is low, my blood sugar is low, my indigestion gone, my insomnia gone, and my irregular heart beat gone.
In September, I decided I didn't want to be away from home any longer (I am still in love with my husband after 33 years) and renegotiated my contract to work from home. That month, I joined Santa Rosa Strength and Conditioning have made many new friends. Most importantly, I love Crossfit and can't imagine my life without it. After more than 40 years of serial gym memberships, I have found a fitness community and routine that works. At 60, I am doing amazing things like cartwheels, handstands, rope climbs, double unders (well almost), and yes dozens of those ugly squatty things. But most importantly, I am in the best shape of my life, I am having fun and look forward to going to the gym. In fact it is hard for me to stay away.
I bumped into a friend whom I hadn't seen in two years and she said, "What happened to you, you look fantastic? Did you find the Fountain of Youth?" I answered with a sly grin, "Why yes, it's called Crossfit, come join us."
So on this day that I am turning 60, I thank Crossfit and the Crossfit community for changing my life! More importantly, I thank the Santa Rosa Strength and Conditioning community – Joanna, Brittanie, Chaz, Pasha, and Nate – for the wonderful gym, the fun and ever changing workouts, and the constant words of encouragement.
[/et_pb_text][/et_pb_column_inner][/et_pb_row_inner][/et_pb_column][et_pb_column type="1_3″][et_pb_sidebar admin_label="Sidebar" orientation="left" area="sidebar-1″ background_layout="light" remove_border="off"] [/et_pb_sidebar][/et_pb_column][/et_pb_section]
---
---