Phillip is so awesome. He comes regularly for training, always warms up and does the mobility work we suggest, listens to everything we say and applies it, he and his wife Terri took the nutrition education we provided and are applying it on their own, and now they've started coming to Strength – which is where our members really start to see gains. Basically, Phillip (and Terri too) are a real joy to have at SRSC. Thank you both, and congratulations!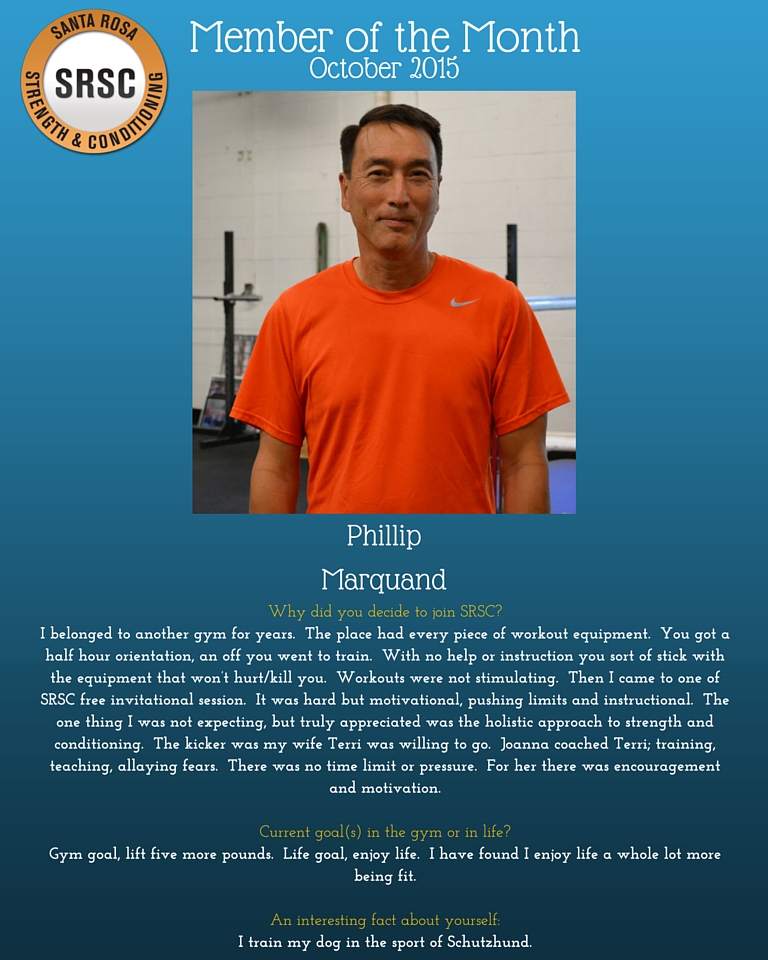 Get the full scoop on Phillip:
1. Why did you decide to join SRSC?
I belonged to another gym for years.  The place had every piece of workout equipment.  You got a half hour orientation, an off you went to train.  With no help or instruction you sort of stick with the equipment that won't hurt/kill you.  Workouts were not stimulating.  Then I came to one of SRSC free invitational session.  It was hard but motivational, pushing limits and instructional.  The one thing I was not expecting, but truly appreciated was the holistic approach to strength and conditioning.  The kicker was my wife Terri was willing to go.  Joanna coached Terri; training, teaching, allaying fears.  There was no time limit or pressure.  For her there was encouragement and motivation.

2. What has become your most memorable achievement or experience since becoming a member?
– Going to the gym with my wife Terri.

– Incorporating strength and conditioning into my workout.  I really enjoy foundations.  It is a great workout.  But adding S&C to my weekly routine brings the experience to a whole other level.  Strength and conditioning compliments and multiples the foundation workout.

– The other thing I love about SRSC is learning.  The staff is always training, teaching, and motivating.  The staff is great.  Each person emphasizes something a little different.  But the core is the same.  There is no contradiction of techniques; a squat is a squat no matter which staff is training.  But one might coach on foot placement, the other may emphasize chest position.  They are always teaching to pull the best out of each person.  It doesn't matter how many people are in a class, the staff will touch each person.  Getting the most out of that person, on that day.
3. Favorite and least favorite exercises?
I don't have a favorite/least favorite exercise.  What might seem funny or contradictory to some is I dislike going to the gym.  I'm the Russet potato of couch potatoes.  Having to motivate myself to go to the gym after work, ugh.  But I love working out at the gym.  Once I'm there, oh boy!  The blood is flowing, endorphins kicking in, coaches motivating, being worn out after a good workout.

4. Current goal(s) in gym or in life?
Gym goal, lift five more pounds.  Life goal, enjoy life.  I have found I enjoy life a whole lot more being fit and in condition.
5. An interesting fact about yourself?
I train my dog in the sport of Schutzhund.
6. Age, occupation, family?
Age-59. Occupation- Accountant. Family- Wife, Terri. Two Daughters (not at home). Two dogs (at home).
7. Anything else you'd like to share?
In life, I don't believe in coincidence.  I guess it's a spiritual thing.  SRSC intersected our life at just the right time.  SRSC introduced us to better nutrition, strength and conditioning, and a great distraction at the perfect moment.
---
---