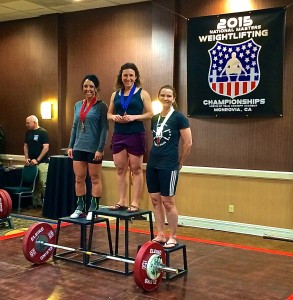 1. What led you down the path to weightlifting/tell us about the beginning: who (influences, if any), where, when, why, how?
I was introduced to the sport at a place in the East Bay where I used to train, The Ice Chamber. When I moved to Sonoma County, and ended up deciding to open a gym, I wanted to get better at Olympic Lifting and found a national level coach right here in Sonoma County, Freddie Myles of Myles Ahead Weightlifting.
2. When and why did you decide to start lifting competitively?
Before I opened my own gym, when I had been training with Freddie for about three months – sort of casually and just learning the lifts – I saw an announcement on the wall at his place for a meet called the Bad Girl Open. How could I not sign up for a meet with that name? So I competed for the first time just three or four months into practicing the lifts, and got 3rd place with a 42 kilo Snatch and a 52 kilo Clean and Jerk. (If you check out the video you can see I wore indoor soccer shoes and no singlet!) I was 34 years old, turning 35 that year, which means I was already considered a Masters athlete. I have competed in Weightlifting fairly regularly – like 2-4 times a year – since then. I think some people are drawn to competition and apparently I'm one of them.
3. How frequently do you train/what does your training schedule look like?
I try to train three times a week. I have so many priorities in my life to schedule in my calendar (family, business, training, etc.) so my training schedule is dependent on a lot of factors. Right now it's Mondays, Tuesdays, and Thursdays. My performance as a Weightlifter is better when I am playing soccer once a week or getting 1-2 walks or easy jogs per week in, but that's not happening right now.
4. Do you only do Weightlifting, or do you train CrossFit or any other modalities?
People who have been at SRSC for a long time know that I used to be a competitive CrossFitter and even made it to Regionals in 2011. Then in 2012, I realized that I was only a few kilos away from qualifying for a national meet in Weightlifting, so I made that my goal and decided to train exclusively as a Weightlifter and not do any CF-style training in an effort to make it to the national stage. I did end up qualifying for the American Open that year (just barely) and competed there at my first national meet (did quite poorly though). I had thought I'd do that meet, then return to CrossFit training and prepare to do some Masters level CF competitions like NorCal Masters. But something interesting happened at the American Open. The meet was run in tandem with a major CF competition, the Outlaw Open. The two competitions were in adjoining rooms at the venue, and so I was able to float back and forth between the world of weightlifting and the world of CrossFit. And you know, I found that I really wasn't that interested in watching the Outlaw Open. I had friends competing, and people to catch up with there – so I did that. But I really only wanted to stay in the Weightlifting room and watch people lift and felt like that was the place I was meant to be. I was inspired there. So, although it's in the way back of my mind that perhaps I'll return to CF (especially now that there's a Masters category in the Games and masters spots in the Grid league) I have trained exclusively as a weightlifter for the last 3 years and have hard time imagining ever leaving it. It's really a sport and community that I love and feel very tied to.
5. Do you have a mantra?
"Get comfortable with uncomfortable." It's not really a mantra but it's definitely something I tell myself. It's a quote from James Fitzgerald, who I consider a mentor.
6. Why do you compete?
Competing sucks. I get anxious, all my fears come forward, and there's the very real possibility of total failure. And that's exactly why I do it. One of SRSC's Core Values is Challenge. "We value the growth and learning that come from facing and overcoming whatever challenges life brings." There is such tremendous learning that comes from testing yourself, putting your self and your performance on the line. Whether you lose or win, whether you perform as you wanted or fail to do so, you will learn something about yourself, about your strengths, about your weaknesses, about your mindset. Many of my athletes have said over the years, 'I don't want to compete if I'm going to be one of the worst ones. Why would I compete if I can't possibly win?' Honestly, it's hard for me to hear that. I have failed and lost plenty of times, and those experiences are just as important as winning. One of our 10 Principles for Member Success at SRSC is "Try to be better than you were, not better than anyone else." To choose to avoid competition simply because you won't win…meh. Cop out. Do something that challenges you! Like I said, competing sucks, it's emotional, it's intense, it's straight-up uncomfortable. And so are many parts of life, right? You can't avoid the shitty parts of life (death, break ups, etc.) so get comfortable with uncomfortable. Competing is a great opportunity to do so.
7. Are your kids interested in lifting and how do they feel about you doing it?
My older son Emilio is not interested, but my younger son Moisés, who is ten years old, has competed twice already!
8. Stalls in gains and plateaus are real.  Tell us about a time when things slowed down for you and how you worked through it.
Haha, this is a question that someone newer to training would ask. New and beginning athletes will always (or should always) see continual gains when they start training, and a stall or plateau is an indication that something is wrong. But as you become an intermediate or advanced athlete, with years of training under your belt, the gains are far slower and harder to achieve, and any gain, like a 1 kilo PR (2 lbs) in either training or competition is a big deal. So it's like the opposite question should be asked: tell us about how you fight to make gains in your lifts? My answer to that one: when I'm serious about my training and really trying to make gains, I make sure to eat really well (super high quality foods like a variety of pastured meats, lots of bone broth, lots of vegetables), to get 8 hours of sleep a night (that's my current magic number where I wake naturally and feel well-rested), get regular soft tissue work (thank you, Anthony Ebright) and to be as active as I can with walks in nature and exposed to sunlight in between my training sessions. And perhaps most important: I do what my coach tells me to do.  Other people have apparently turned to performance enhancing drugs to try to squeeze out gains. The idea of cheating is just so against my nature that it has taken me several years to accept that there is drug use in the CrossFit world and in Weightlifting, but it's clear now that there is. I've been selected twice by USADA for drug testing, which I find totally funny – I mean, what does a 40 year old mom have to gain from juicing when all I get for winning Masters Nationals is a medal and a patch, ha! – but I guess I'm supposed to be proud that I'm a clean athlete. So yeah, I'm a clean athlete. In fact, I generally don't even use any supplements or vitamins or shakes or anything like that.
Joanna shows us that sometimes she still misses a lift (in this case, it's a 67 kilo snatch):
9. Future goals?
I really like that I can call myself a National Champion now, sounds so awesome! So I'd like to win the Masters National Championship a few more times. Then I can say I'm a two-time or three-time National Champion!
---
---